Indigo Road Hospitality Group's first hotel venture is now open in the Blue Ridge Mountains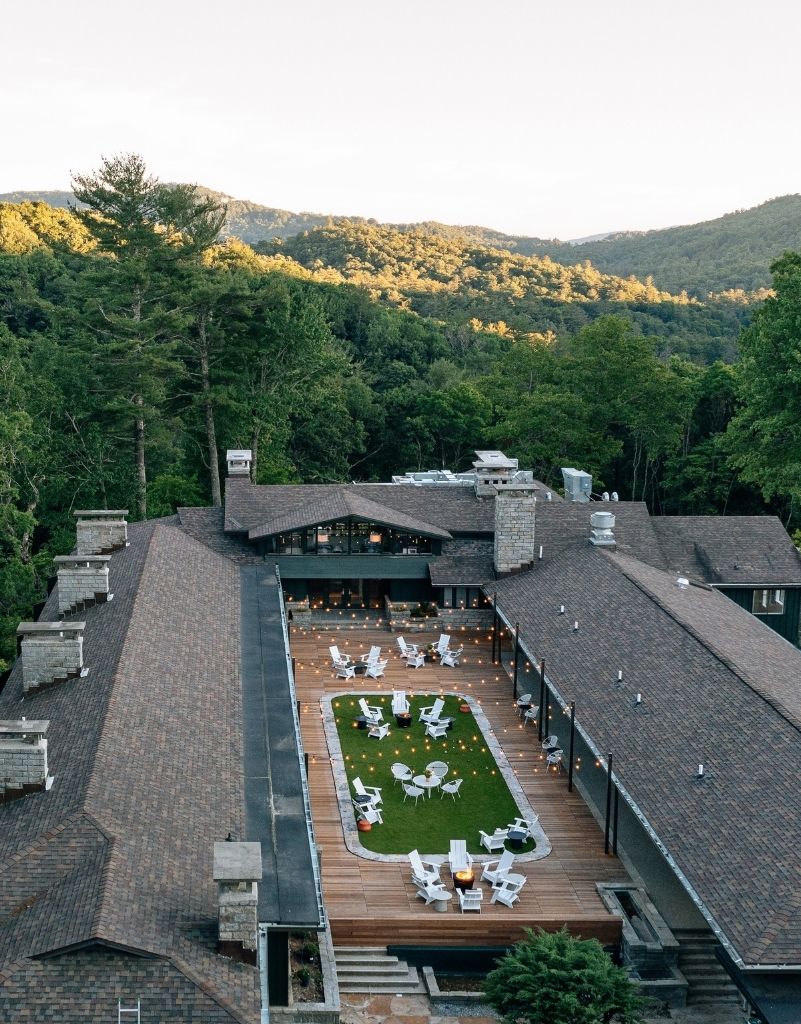 HIGHLANDS, NC (July 6, 2021) – Skyline Lodge and Oak Steakhouse – the newly renovated historic boutique property and steakhouse from Indigo Road Hospitality Group – have officially opened their doors in the mountain town of Highlands, North Carolina. Led by Indigo Road Hospitality Group Founder and three-time James Beard Award Outstanding Restaurateur nominee Steve Palmer and Indigo Road President of Lodging & Lifestyle Adventures Larry Spelts, Skyline Lodge marks the nationally acclaimed restaurant and hospitality group's first venture into the hotel space.
Skyline Lodge:
Tucked away in the bucolic Blue Ridge Mountains, Skyline Lodge opens following an extensive renovation of the beloved, historic 1930s-era property, which has been a staple in the area for over 80 years. The property evokes an immediate sense of place through its mid-century modern design and distinct architecture, which was originally conceptualized by architect Arthur J. Kelsey, a longtime student of Frank Lloyd Wright. Featuring clean lines, reclaimed wood interiors, and thoughtful details that pay homage to the surrounding nature, the lodge offers 39 guest rooms and one suite – all nestled along winding exterior corridors. Outside, the lodge boasts the area's most stunning panoramic views as well as easy access to a variety of hiking trails, waterfalls, shopping destinations, and additional opportunities to enjoy the nature and amenities both within and beyond the property.
"The lodging options in Highlands tend to skew either very casual or very luxury, and we saw a need for something in between – relaxed, but authentic with elevated design and lively service – which is the way our team loves to travel and dine in our own free time," says Steve Palmer.
"Skyline Lodge is iconic—the property is nearly 100 years old and has lived many lives over the decades," says Larry Spelts. "We jumped at the chance to acquire and renovate the building as
Indigo Road's first hotel project and think guests are going to fall in love with the location's surrounding nature, beautiful midcentury design, and culinary-driven approach."
Oak Steakhouse Highlands:
Skyline Lodge's second floor is home to Oak Steakhouse, a contemporary steakhouse featuring the finest cuts of Certified Angus Beef and locally sourced produce from area farms. The first and only steakhouse in Highlands, Oak is led by Executive Chef Kelly Vogelheim, who partners with area purveyors and neighboring farms to bring the flavors of Appalachia right to the table. Guests will enjoy a variety of starters, entrees, sides, and more, including Braised Rabbit Agnolotti with White Wine, Hazelnut, and Lavender; Wild Mushroom Tart with Shaved Turnips, Garlic Confit, Sherry Cream, and Gruyere; Duck Fat Poached Lobster Tail with Saffron Risotto, Pea Tendril, and Chive Oil; and, of course, a selection of Certified Angus Beef steaks. And for those with a sweet tooth, Executive Pastry Chef Anne White offers delectable treats such as her signature Sorghum Caramel Cake (which is sold both by the slice at Oak and as a full cake to take home), an Eight Layer Chocolate Cake (which also happens to be gluten-free), and a Honeysuckle Sorbet with Fried Sage Leaves and Baked Honey Meringue Shards. Anne brings a worldly mindset to her pastry program, having worked all over the world from Scotland to South Carolina.
The beverage program at Oak, curated by Director of Outlets Michael Searles and Wine Director Vonda Freeman, features an expansive wine list that complements the restaurant's culinary menus, an ever-evolving cocktail selection, a variety of local beers, spirit-free cocktails, and more. The menu features creative touches on classic libations, like the Pinkie Lee Spritz with Bitter Orange, Lemon, Cava, and Black Pepper flavors and the Dark, Truthful Mirror with Chartreuse and Mezcal, Lillet, Lime, Ginger and Mountain Herbs. Guests are encouraged to enjoy their beverages "on the rocks and under the stars" on the property's outdoor patio, which overlooks the lodge's stone terrace and overhears the sounds of Big Creek Falls and Laurel Falls just below.
In addition to Oak, Skyline Lodge's central lobby bar, Butlers Lounge, features expansive lounge seating, vaulted load-bearing ceilings, and two large scale fireplaces of hand-carved, locally quarried granite, and offers mid-century favorites such as Corpse Revivers, Manhattans, and Whisky Smashes as well as contemporary riffs on classics—nodding to the property's 1960s roots.
The Design: Designed by Carrie Dessertine of Mey + Co, Skyline Lodge evokes a crisp, natural feel that picks up where the surrounding nature ends. The lobby and 40 guest rooms offer a fresh approach to 1960s and 1970s décor, honoring the eras with funky touches like terracotta flooring and circular patterns, while also uniquely leveraging organic, natural, and textural elements (think: cork headboards, exposed stonework, and wooden furniture). Throughout the spaces, a calming color palette of greens and neutrals pulls the outside in and allows guests to feel truly immersed in the surrounding scenery. Oak is designed around three vintage glass pendant light fixtures, which emit glowy light throughout the space and create a dream-like atmosphere. The restaurant is anchored by a bar within the central vaulted exposed beam space and flanked by two oversized, original stone fireplaces. Other unexpected gathering spaces throughout the lodge – including a mezzanine and reading room – are mismatched and whimsical, adding to an overall Wes Anderson vibe and featuring a menagerie of touches from regional artists and custom makers.
The Destination:
Highlands is a charming town perched in the idyllic Blue Ridge Mountains of North Carolina. A hidden gem and growing Southern destination for cooler summer temps and prime "leaf peeping" during the fall season, Highlands boasts a variety of shopping, dining, and accomodations—all in close proximity to the great outdoors. Hiking, fishing, and waterfalls are huge draws to the area;
residents and visitors don't have to go far from the town's center to find a scenic trailhead or overlook. Just a 2.5 hour-drive from Atlanta and two hours from Asheville, the town is perfectly primed for both active and relaxing weekend getaways from several Southern vantage points.
Packages + Special Offers:
Skyline Lodge offers a variety of on-site programming for guests, including whisky pairing classes, outdoor oyster roasts, wine dinners, guest musicians, and more, as well as local off-site experiences like fly fishing and rock climbing – all accessible through a custom webpage and app. Additional activities include beekeeper workshops, painting classes, outdoor excursions, and arranged outings with local guides and artisans. Please note that these offerings rotate based on seasonality and availability. Information on current offerings can be found here.
Meetings, Events, and Weddings
Skyline Lodge offers a variety of spaces that can be reserved for semi-private and private events – from weddings to family reunions, company retreats, meetings, and more. Event spaces include a mezzanine overlooking the lobby bar, an outdoor terrace featuring panoramic mountain views, the lodge's first floor lounge, and Oak Steakhouse restaurant.
The Details
Skyline Lodge is located at 470 Skyline Lodge Road, Highlands, NC, 28741. Summer room rates open at $300 per night.